Shopping Basket
Your Basket is Empty
There was an error with PayPal
Click here to try again
Thank you for your business!
You should receive an order confirmation from Paypal shortly.
Exit Shopping Basket
| | |
| --- | --- |
| Posted on 24 March, 2016 at 17:10 | |
November 15, 2015 -- A mutual exchange of recognition with H.R.H. Prince Nugzar Bagrationi-Gruzinski, the heir to the royal throne of Georgia and its former constituent kingdoms under the traditions of that venerable land, was signed. His Majesty presents his compliments to H.R.H. Prince Nugzar and his heir, H.R.H. Princess Anna.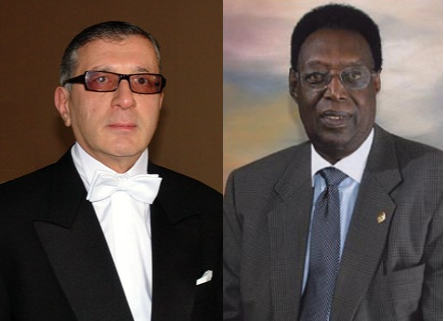 A copy of the exchange, which has been edited to protect the signatures of the two royals, may be viewed here:
Mutual Recognition with Royal House of Georgia
Given a number of questions from the public, the below clarifies the exchange:
Recently, having been approached by His Royal Highness Prince Nugzar Bagrationi-Gruzinski, with the intent of establishing fraternal ties, His Majesty accepted his friendship and so recognized the aforementioned Prince Nugzar as a Prince of the Georgian Royal House and the Orders and honors granted by him as one of the traditional customs of Georgia. His Majesty recognizes that said House, much like many other non-reigning Royal Houses of Europe, has alternative claimants resulting from the historic turmoil suffered by that land. Consequently, His Majesty clarifies that in such cases it is up to the members of the each royal system and ultimately the people of that country to decide their own system of government. His Majesty's fraternal ties with Prince Nugzar and any other Royal in no way diminishes His Majesty's wish for the people of Georgia or any other country for that matter to make their own decisions, nor is his gesture of friendship intended to insult any of the other claimants, Royal Patrons of the Prester John Institute, or members of any organizations His Majesty is affiliated with, and least of all cause confusion or conflict for the Prester John Institute of which His Majesty is a founding member and Regent.
Further, His Majesty also clarifies that when he grants Courtesy Patronage to an organization where he is not an active member, it is possible that those responsible for the same, may and do express opinions that do not always reflect His Majesty's personal sentiments. Consequently, only statements made on this website and in signed and sealed statements from His Majesty should be considered Official Statements.
Categories: None
/